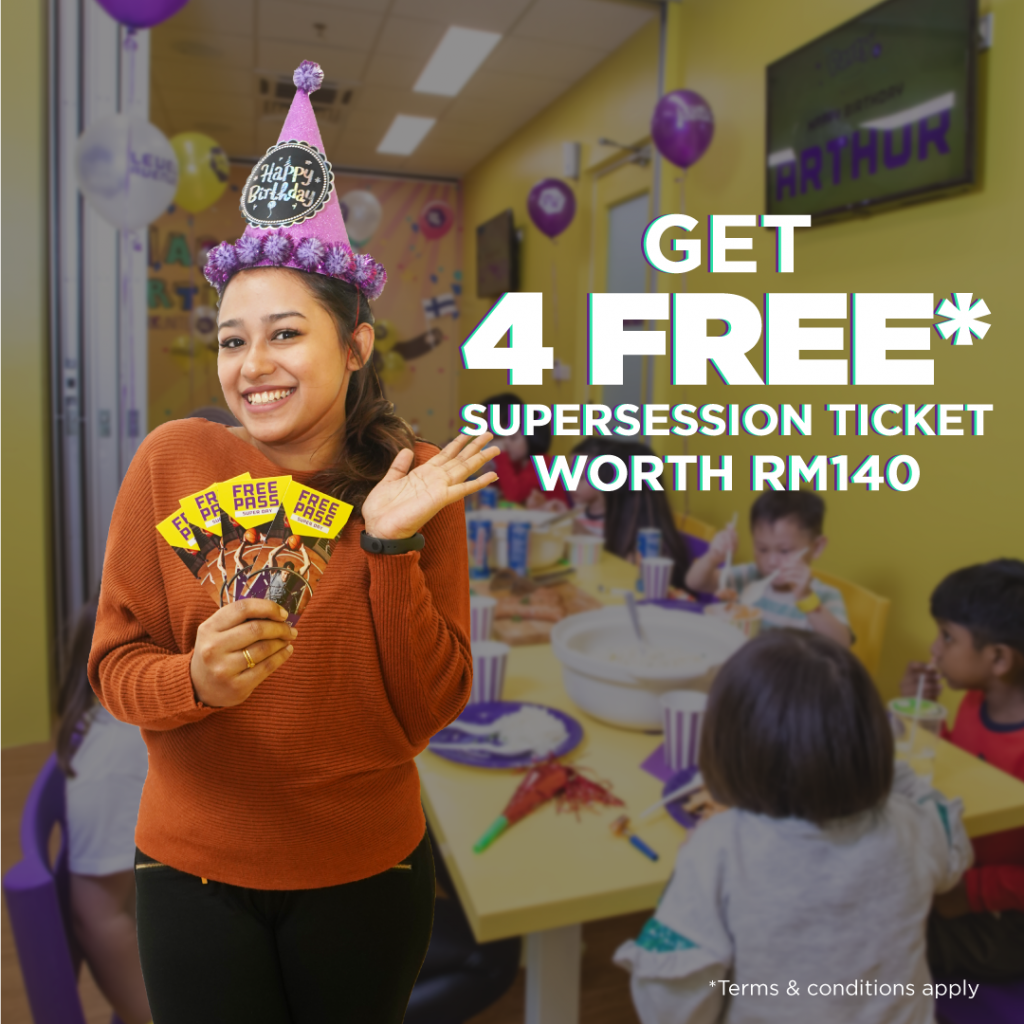 What are you waiting for? Refer your friends and family now, and get 4 x  FREE One Day Ticket worth RM300. Not only that, your referral will also enjoy the same 4 x FREE One Day Ticket to be used on the party day!
Hurry up and start referring by filling in the form below. Limited to the first 50 successful referrals only!
P.s. Give a heads up to your referral so they are aware when we contact them
Terms & Conditions
Only valid for guests who have held a party here at SuperPark before
Guests are only entitled for the 4 free pass once their referral has placed a deposit
Minimum 15 Pax are required for a party booking.
A non-refundable deposit of 50% from the total payable must be paid to secure the party slot/room.
Details and payment in full must be received no later than 7 days prior to the event or party date. Failure to do so will resulted in the booking to be cancelled and deposit paid will be forfeited.
No refund will be given in the event of changes and/or cancellation.
Additional guest/participant on the party date is subject to full walk-in price (admission ticket) and availability of food.
All guests entering the activity park must sign off the waiver form and possess a valid admission ticket/ wristband.
No alcoholic drink is allowed.
No outside food/drink is allowed, except for birthday cake.
Special dietary requirement including and not limited to vegetarian/allergies must be notified 5 days in advance.
Room Damage Penalty RM1000.
Extra time on party room usage is charged on an hourly basis at RM700 per room and subject to availability.
All SuperPark bookings are first come first serve and subject to availability. The participants are required to share the venue with other guests in the Park, while the booking is still on-going to sell on the internet.
SuperPark grip socks are required at all times within the park. Guests are not allowed to walk around barefooted or with shoes in the park.
SuperPark will not accept responsibility for the loss or damage to any equipment or merchandise left on the premises prior to, during, or after the function.
In the event of dispute, SuperPark Malaysia's decision is final.